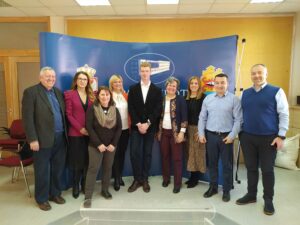 CEVES and TOC – strengthening the perspective of local sustainable development
Within the "Sustainable Development for All" Platform, CEVES and TOC held a meeting in the city administration of Pirot on February 28, 2022 with representatives of the city and the Regional Development Agency South (RRA South), and presented the document "Findings and recommendations for the localization of the economic dimension of sustainable development in the Mid-Term Development Plan of the City of Pirot". Among those present at the meeting were Kori Udovicki, president of CEVES, Goran Radisavljević, director of TOC, Miloš Colić, deputy mayor of Pirot, Marija Đošić, head of the office for local economic development and Dragana Stojanović, director of RRA South.
Ten-month research, in cooperation with city representatives, showed that the key goals of local economic development are: 1) positioning Pirot as a center and driver of economic development; 2) diversification of the economy and development of the private, especially SME sector and 3) utilization of natural wealth for the development of tourism, agriculture and green energy while improving the quality of the environment. The presentation of the analysis on the integration of the sustainable development goals of the 2030 Agenda into the Mid-Term Development Plan of the city of Pirot was followed by a discussion on past and future plans, as well as the challenges that the city of Pirot faces on its way to achieving economic development and the 2030 Agenda. The discussion generated ideas for initiatives on how the development can be improved, some of which are the need to strengthen the system of inter-municipal cooperation, as well as the possible improvement of the regulation of cooperatives in order to facilitate cooperation between small and medium-sized enterprises based on the Italian and other models. You can view the presentation at the following link
You can see more about the meeting at the link.